I'm very excited to reveal the lovely cover for
Trust In Me
, a novella from Cam's point of view, during the events of
Wait For You
! I cannot wait to get my hands on this novella on October 22nd! Read the post all the way to the end for the chance to enter an awesome giveaway! Now, because you darlings have waited long enough on me, here's the cover for
Trust In Me
!
It's Wait for You as you've never seen it. Trust in Me lets you in on Cam's side of the #1 New York Times Bestselling story.
Cameron Hamilton is used to getting what he wants, especially when it comes to women. But when Avery Morgansten comes crashing into his life – literally – he finally meets the one person who can resist his soulful baby blues. But Cam's not ready to give up. He can't get the feisty and intriguing girl out of his head.
Avery has secrets, secrets that keep her from admitting the feelings Cam knows she has for him. Will persistence (and some delicious homemade cookies) help him break down her barriers and gain her trust? Or will he be shut out of Avery's life, losing his first real shot at the kind of love that lasts forever?
Now, here's a
SURPRISE GIVEAWAY
for everyone who read this post and saw the cover for
Trust in Me
!
a Rafflecopter giveaway
Excited for the book to release? Here's your chance to pre-order
Trust In Me
from any one of these fine retailers.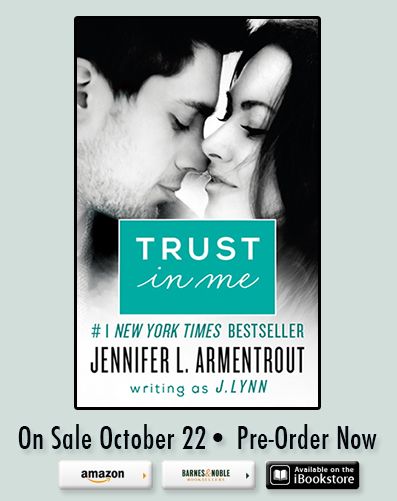 Thank you so much to Abigail Tyson, an awesome assistant publicist at William Morrow, who sent out the information for this reveal. you're a rock star!
Happy Reading,